Applications for this role are now closed. Please go back to view all available jobs.
Catering Assistant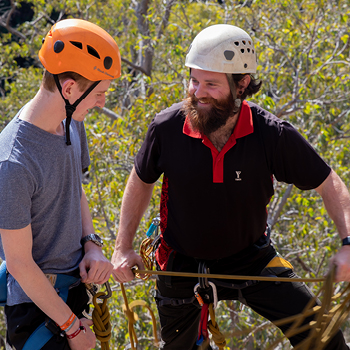 Location:

Yarramundi NSW

Work-type:

Casual

Category:

Camp

Expires:

Oct. 6, 2019 at 11 p.m.

Salary:

$21.99 - $22.99 per hour
Applications closed
Applications closed
Job details
Deliver a high quality of meals for guests
Have a full understanding of Food Safety
Opportunity to provide catering for our 2 camp sites
We are now looking for 2 catering assistants to come join the team at our camp sites to provide good quality meals and outstanding customer service to our guests at our camp sites in Yarramundi.
About your new role:
This is a casual role within Camp Yarramundi. You will be required to support the Catering Team in the delivering of high quality meals to a range of guests at Camp Yarramundi and Sydney Olympic Park Lodge (when required). Outstanding customer service skills are a must to ensure guest's needs are met at all times!
You will come with:
A willingness to work as part of a team
Customer Service experience
Own Transport
Need to be reliable and committed
To be successful in this role, you will have
Previous food safety experience
If you believe this suits you, and you would like to join the Y? Don't wait! Apply now!
YMCA NSW is dedicated to offering rewarding careers with challenging work and many opportunities to learn and grow. If you have strong personal values, care about people and want to make a difference in building strong individuals, families and communities, YMCA NSW could be the place for you. We are an equal opportunity employer that welcomes diversity and offers flexible work arrangements to support our employees as well as encourage work life balance!
About the Y
YMCA NSW is a profit-for-purpose organisation focused on healthy living, social impact and empowering young people. We operate 22 recreation centres, 63 Out of School Hours Care services and two camping locations which fund our diverse range of community programs, employing 1800 staff across NSW.
Our goal is for our workforce to reflect the diverse community we serve. We encourage people of all genders, ages, religions, disability, sexual orientation, family & caring responsibilities & cultures including people of Aboriginal and Torres Strait Islander heritage to apply.
Commitment to Safeguarding
YMCA, including Boards of Directors, is committed to the safety and wellbeing of children and young people in accordance with our Safeguarding Children and Young People framework. YMCA requires that all applicants undergo satisfactory screening prior to commencement, including but not limited to:
a national criminal history check;
an international criminal history check where applicants have worked overseas;
holding or obtaining a Working with Children Clearance/ equivalent in accordance with state/ territory laws;
Two reference checks.
Please note, the results of any National and International Police Check will only be used to assess your suitability to perform the role.
Any successfully appointed applicant will be required to adhere to the Safeguarding Children and Young People framework, which includes a thorough safeguarding children and young people induction and committing to upholding the safety and wellbeing of children and young people throughout their engagement with YMCA.