Applications for this role are now closed. Please go back to view all available jobs.
State Fitness Manager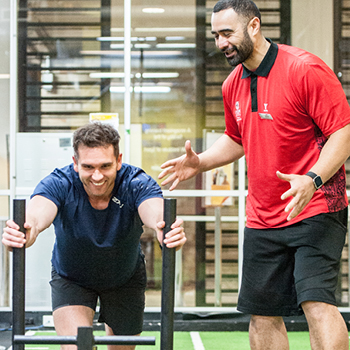 Location:

Parramatta, Sydney NSW

Work-type:

Full Time

Category:

Recreation

Expires:

Oct. 1, 2019 at 11:07 a.m.

Salary:

$110000 - $120000
Applications closed
Applications closed
Job details
Unique role tasked with changing the fitness landscape for the Y NSW
Board and executive reporting and analysis of the Y NSW fitness product
Based in Parramatta, with regular travel between NSW and ACT.
It is not often that we need to recruit for a role like this; however, we have a rare opportunity for a dynamic and energetic SME with significant experience in the Health and Fitness Industry to join and lead change and excellence within the fitness team across the Y NSW.
About your new role:
Reporting to the Head of Product & Implementation, you will predominantly drive the development and continuous improvements of the fitness service we offer to all our customers, ensuring they have an excellent experience of the brand, products and our organisation. You will also be responsible and working closely with the Fitness team to ensure they are achieving their KPI targets.
More about the role and you:
You will be the Subject Matter Expert and the Fitness Guru who will mentor and support the Fitness teams to success, in a time of change at the Y NSW, ensuring our product is consistent and uniformed across the business in NSW and ACT. You will have strong stakeholder management skills adept at influencing personnel through data driven analysis and decision making.
We really want you to have fun along the way and use your skills to get the best out of the fitness team.
What you will come with:
Certificate IV in Fitness or above
Bachelor's degree or above in business or related field (Desirable)
Proven delivery of customer experience projects and programs with measurable results
Demonstrated experience in developing tools to engage with stakeholders, users of our facilities and greater communities
Strong negotiation and influence skills
Exceptional written and verbal communication skills
Detailed and operational understanding of the national fitness code of practice and other relevant codes or legislation
Driver's License
About the Y
YMCA NSW is a profit-for-purpose organisation focused on healthy living, social impact and empowering young people. We operate 22 recreation centres, 63 Out of School Hours Care services and two camping locations which fund our diverse range of community programs, employing 1800 staff across NSW.
Our goal is for our workforce to reflect the diverse community we serve. We encourage people of all genders, ages, religions, disability, sexual orientation, family & caring responsibilities & cultures including people of Aboriginal and Torres Strait Islander heritage to apply.
Commitment to Safeguarding
YMCA, including Boards of Directors, is committed to the safety and wellbeing of children and young people in accordance with our Safeguarding Children and Young People framework. YMCA requires that all applicants undergo satisfactory screening prior to commencement, including but not limited to:
a national criminal history check;
an international criminal history check where applicants have worked overseas;
holding or obtaining a Working with Children Clearance/ equivalent in accordance with state/ territory laws;
Two reference checks.
Please note, the results of any National and International Police Check will only be used to assess your suitability to perform the role.
Any successfully appointed applicant will be required to adhere to the Safeguarding Children and Young People framework, which includes a thorough safeguarding children and young people induction and committing to upholding the safety and wellbeing of children and young people throughout their engagement with YMCA.